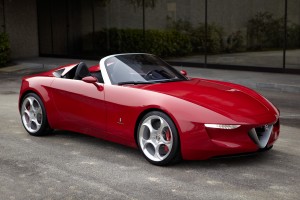 Rumours (dreams?) of a Duetto inspired Alfa Spider has been around ever since the last type 105 Spider S4 rolled out of the factory in 1994. They had died out a bit, but after we've had the 4C concept presentation, the Spider guesses are starting once again. I'll try to update this post as the news drops in…
[Update 2012-05-23] – Fiat and Mazda announce that they intent to build the next Alfa Spider and Mazda MX-5 (Miata) on the same platform. Hopefully the result will be better than the last time Alfa collaborated with a Japanese manufacture.
Alfa Spider 2015, photoshop from Car Magazine

2012-08-10 Car Magazine – Alfa Romeo Spider and Mazda MX-5 (2015): the new sports cars revealed "'The study calls for both Mazda and Fiat to develop two differentiated, distinctly styled, iconic and brand-specific light weight, roadsters featuring rear-wheel drive,' the companies have confirmed. 'The Mazda and Alfa Romeo variants will each be powered by specific proprietary engines unique to each brand.

'The project assumption is that both vehicles will be manufactured at Mazda's Hiroshima, Japan, plant with production for Alfa Romeo envisaged starting in 2015.'"

2012-07-13 AutoEdizione – Next Alfa Romeo Spider will be named Duetto "According to the American source Car&Driver the future Alfa Romeo Spider which is planned for 2015 will be named Duetto. So no additions, only the old nickname as the official name. The name Spider is maybe preserved for a larger model (6C Spider?). A very cautious conclusion that the stunning Duettotanta by Pininfarina (2010) was a sign for future products by Alfa Romeo."
2012-05-30

Alfa Spider – AutoExpress.co.uk photoshop

Alfa Spider – AutoExpress.co.uk photoshop

AutoExpress.co.uk – New Alfa Romeo Spider "The rear-drive chassis will be incredibly light, making use of Mazda's advanced SKYACTIV technology, so expect the Spider to weigh less than 1,000kg. And the front-mounted engine will be positioned as close to the centre of the car as possible to ensure great handling.
Thanks to that low weight, the Spider won't need a huge engine, and in keeping with the back-to-basics philosophy of the MX-5, the car is expected to feature a 1.4-litre four-cylinder turbo, with power ranging from 135bhp to 175bhp.
However, it's possible that any high-performance Cloverleaf version would have the upcoming 4C coupé's 1.75-litre turbo, with well over 230bhp.
There's no word on cost just yet, but the Alfa Spider is expected to sit slightly above the new MX-5, with a starting price of around £20,000. A soft-top and folding hard-top are likely to be available. Production of the new sports car will start in 2015."

2012-05-28 AutomotiveNewsEurope – Alfa adds rwd roadster from Japan to U.S. lineup for 2015 "Alfa and Mazda will co-develop the lightweight chassis for the two roadsters. Each brand will get its own styling and engines."
2012-05-23 TopGear.com – Alfa and Mazda to build new roadster "The two companies announced the co-operation this morning. They even announced that they expect to get the Alfa into production in 2015, in Mazda's own factory"

high-tech 1.8-litre engine, which will also power the mid-engined 4C


2012-05-23 AutomotiveNewsEurope – With Mazda, Alfa may have the right partner for a Spider revival

Luca Ciferri: "The agreement to use the MX-5 underpinnings is nothing new. In 2008, Alfa's CEO at the time, Luca De Meo, first suggested the idea, but when Fiat entered into a strategic alliance with Chrysler in 2010, the plan changed. That same year, Alfa said it was planning to launch a new Spider in 2013, possibly co-developed with Chrysler and built in the United States or Canada. In 2011, Alfa CEO Harald Wester announced the model would be delayed by a year, without clarifying who the partner would be. I really hope that the announcement by Fiat and Mazda is the final decision on the future of the Alfa Spider. While a 2015 launch date is not exactly tomorrow, it is better than nothing."

2012-05-23 AutomotiveNewsEurope – Fiat and Mazda plan to jointly develop roadster based on next MX-5

2010 Mazda MX-5

Joint developed with Mazda (next MX-5 platform)
Launch 2015 (globally)
Production at Mazda's factory in Hiroshima
"Engineers from both companies are studying how to cooperate on a joint vehicle that will be an "iconic," lightweight, rear-drive roadster with differentiated design and identity for each brand, a joint statement said. The car would be based on MX-5 architecture."

2012-05-23 Alfa Romeo press release – Fiat and Mazda announce co-operation program

"Fiat Group Automobiles  S.p.A. (Fiat) and Mazda Motor Corporation (Mazda) have signed a non-binding Memorandum of Understanding (MoU) for the development and manufacturing of a new roadster for the Mazda and Alfa Romeo marques based on Mazda's next-generation MX-5 rear-wheel-drive architecture."
"The Final Agreement is expected be signed in the second-half of 2012."

Pre Mazda announcement rumors:

2012-01-09 Auto Edizione – Alfa Romeo plans 6C for 2014 together with Dodge:

Name: 6C – plausible
Engine: straight six cylinder – doubtful! a V6 is must more likely
Drive train: rear-wheel driven shared with Dodge – plausible

They also go on to talk about a possible collaboration for the next Dodge Viper and a successor to the 8C Competizione

2011-11-14 AutoExpress.co.uk – New Alfa to target MX-5
Speculation of a Duetto (105) inspired new Alfa Spider, which is suppose to compete with the Mazda MX-5. Key figures are: £25.000, 150 HP (from a detuned 1750 TBI??, why not the 1.4 MultiAir?), 1000 kg, 2013.