Okay, I admit this is quite an intricate setup, but it works great and the different parts of it will work by themselves so hopefully this can be of use for others too.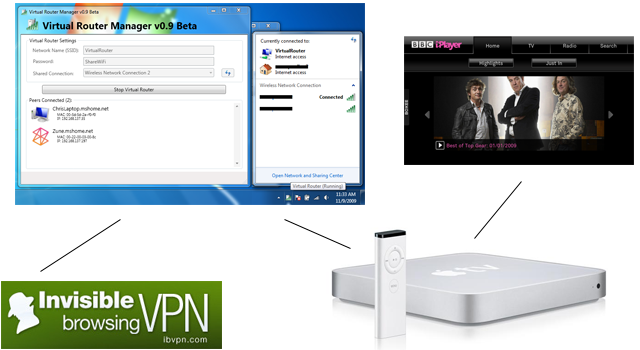 First a little background for the setup. I use a 1st gen (aluminium) AppleTV
as a "TV" in the bedroom connected to a pair of speakers and an old monitor. I like the design of the box and the remote is neat, but the software is just way too restrictive. So I run Boxee on it, which both looks very nice and handles both local and online media well.
Installing Boxee on the AppleTV is pretty easy, you just need to boot it off a USB stick ("patchstick") which has been prepared on a computer. This can either be done by following this guide (free): Boxee AppleTV installation or by using FireCores aTV Flash (not free): Firecore.com/aTVflash. aTV Flash gives you some other features aside from Boxe, but if you just want Boxee then it's not necessary.
I like to watch Top Gear and F1 on BBC's iPlayer, and there is a plugin for it in Boxee, but it only works if you're in the UK, or if the BBC thinks you're in the UK. This can be solved by using a VPN (Virtual Private Network) service. There are loads of them out there, some free, some not, and one can be as good as the other, but I use ibVPN (not free) so you can try that if nothing else works.
The problem now is to make the AppleTV connect to the internet through the VPN, this can't be done directly and I haven't had any success by using FireCores VPN tools. I do have a spare WiFi card in my desktop computer (Windows 7) though, so I login to the VPN on that and then use Virtualrouter (free) to create a WiFi accesspoint that the AppleTV can connect to.
Voila, it works, iPlayer streams perfectly on the AppleTV via the VPN connection on the desktop computer 🙂
The last part of the guide can also be used if you have a Boxee Box
, instead of a AppleTV running Boxee.